We've all heard it, "You don't get a second chance to make a first impression." When prospective buyers drive up and see your home for the first time, you want them to feel it has been cared for and well maintained. While curb appeal gets buyers in the door, there are other steps you need to take to ensure your home sells quickly and for a fair price. These may vary depending on things like neighborhood and market conditions. It is important to work with an experienced, local professional like Dan Konicek at Paramount Realty to help prepare you home to appeal to the maximum number of buyers.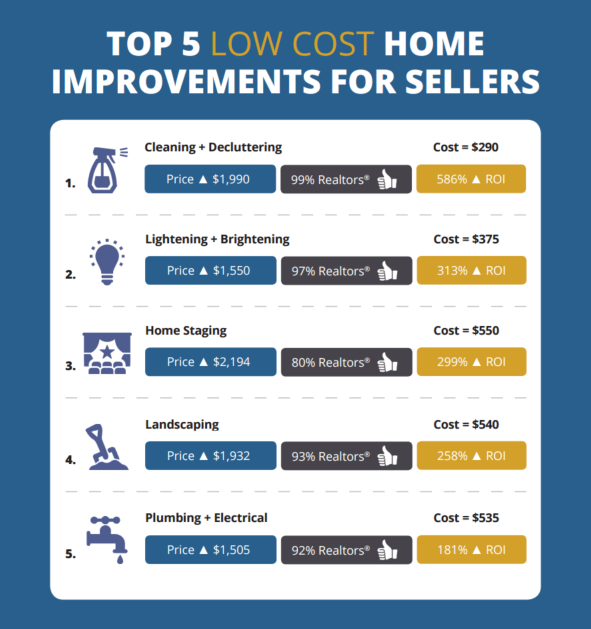 Not all home improvements are cosmetic. Deteriorating roofs, leaky windows, termite infestation or outdated electrical systems can all negatively impact your home's value. An interested buyer will hire a home inspector before purchasing your home – it is often an excellent investment of a few hundred dollars to hire one yourself before putting it up for sale so that you know what issues need to be addressed. Once you know what the issues are, you can determine whether to make the repair prior to the sale.
There are, of course, also many cosmetic improvements that can go a long way to attracting buyers and improving offers. One of the simplest and most cost-effective of these is paint. Freshly painted rooms give your home a clean and updated look without costing too much money. Decluttering and creating space in your home is also important. Anything that opens the space and creates a sense of flow in your home will appeal to buyers.
Landscaping and lighting are important investments that bring a big return. Landscaping is a huge part of a home's curb appeal and that first impression a buyer has about the how the home has been cared for. National surveys of real estate agents also point to lighting as a simple way to enhance a home's appeal – everything from dimmer switches to sun tubes. Even simple tricks like using high wattage bulbs to make small spaces feel larger and soft lighting to bring warmth to empty spaces.
Before you consider expensive remodeling or fancy upgrades, be sure to take care of the basic home maintenance issues that can harm the value of your home and put in the work to present your home in the best possible light. This includes adding insulation, fixing plumbing leaks, replacing broken storm windows and doors as well as cleaning, simple upgrades and basic landscaping.
Contact Dan Konicek to talk about how Paramount Realty can help you determine the value of your home and get you the best offer possible, or download our sellers guide here.
From downtown to Bay View to the east side in Milwaukee, from Wauwatosa and Elm Grove to the west,Franklinand Racine to the south, and Shorewood and Mequon to the north, Paramount Realty knows the greater Milwaukee region and understands the unique characteristics of each community. We have helped buyers and sellers throughout Milwaukee county including Whitefish Bay, Greendale, and the small village ofRiver Hills.